Black Hole Lab Microfluidic chip facilities
The first microfabrication facility without clean room
During the exchanges with researchers, we saw the need for a lot of laboratories to have their own microfabrication facility in order to make their own chips quickly and easily. This company propose a turnkey micro-fabrication station which enable any research lab to easily fabricate their microfluidic device without clean room. Those station enable to avoid the  purchase and the maintenance of a clean room.
Black Hole lab have been created to enable all research lab, whatever their field of research, to integrate microfluidic in their scientific work. They propose a wide range of equipment for microfluidic chip fabrication   but we also provide training and scientific advise.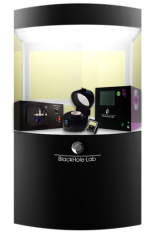 Turnkey soft-lithography stations
No need of clean room or any additional equipment. With our station even complete beginner can produce the highest resolution microfluidic chips …
---
High resolution - The same resolution as clean room laboratories
---
Plug&Play - Produce your chip immediately
---
Affordable - All inclusive stations from 20 000 to 70 000 euros
As part of the Microfluidic Innovation Center consortium Black Hole Lab can collaborate with your research laboratory to  provide you featured micro- fabrication platform and microfluidic chips.
Black Hole Lab web site
Why choosing ELVESYS as a partner for your R&D consortium ?