The fastest temperature control for microscopy
Designed for fast temperature shifts during live cell imaging.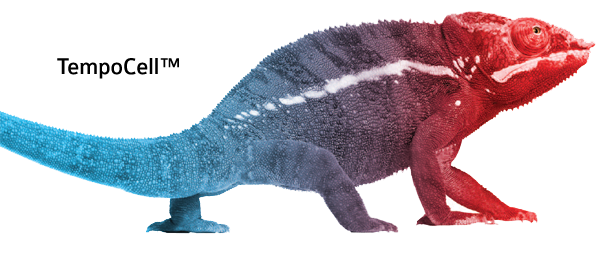 The TempoCell platform provides exceptional temperature control for live cell imaging experiments.
Based on a breaking edge microfluidics technology, TempoCell fits easily with any microscope setup to deliver unprecedentedly rapid, precise and stable temperature shifts within a 5°C to 45 °C range while performing time-lapse video microscopy experiments.
The intuitive TempoCell software interface enables any user to get in just a few minutes the full potential of this innovative tool for cellular dynamics studies. The TempoCell software also enables programmable temperature sequencing that gives the user the opportunity to make subtle imaging experiments in which very high temporal resolution is required, but also long video microscopy experiments without the necessity for his presence. 
The user-friendliness of the TempoCell platform really benefits to the end user that can now focus on what really matters : science, without tinkering.
Technology principle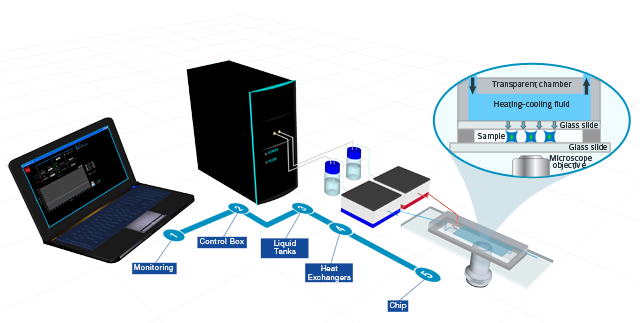 Major innovations of the TempoCell™ platform
TempoCell™ temperature management software
A simple & efficient temperature management software for experiments with total confidence!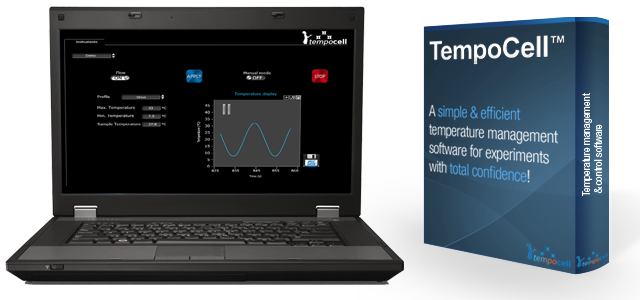 The intuitive software interface allows for easy and immediate use.
The edition of temperature sequences allows for high reproducibility of the experimental procedure.
Do your experiment then export & save experimental data for further analysis.
Install TempoCell™ temperature controller on your microscope stage 
1. Set your min/max working temperatures within the 5°C/45°C range*
2. Place your microscope slide in the Tempocell™ holder
3. Launch the thermalization cycle
4. Switch the temperature of your biological sample in less than 10 seconds
6. Observe your sample without detrimental effect due to illumination
7. Perform temperature controlled imaging on your biological sample with up to three temperature zones
8. Stop the thermalization cycle, recover your sample and the temperature sequence of your experiment
* extended range available in option
Comparative chart : temperature controller technologies for microscopy
Have a look at the comparative chart that outlines the similarities and differences between traditional temperature control systems and the TempoCell™ platform, and see why this new tool creates new opportunities for scientific advances.
TempoCell™ open platform…

A fast temperature control platform for biological imaging and biochemistry 
TempoCell™ is an open platform designed to respect the way biology is investigated while multiplying the capabilities of researchers for new experiments and new discoveries. Microfluidics opens the route to environment control at the scale of the single cell.
We derived our microfluidic technologies in order to provide advanced platforms dedicated to cellular and molecular biology imaging with only one final goal: to make microfluidics transparent for the biologists. Based on a microfluidic technology, TempoCell™ heating/cooling system benefits from the strong thermal efficiency of high speed forced liquid convection with the fastness of thermal diffusion at the microscale.
An innovative temperature control solution
Our temperature control platform for biological high resolution microscopy TempoCell™ is the first system developed in order to get a precise control of biological systems as simple as standard experiment.  After warming up the system, the thermal energy can then be transferred to the biological sample using a unique microfluidic technology specifically designed to maximize heating or cooling rates and placed in close contact to the sample of interest.
As a consequence, the liquid flow used to quickly cool or warm is not in direct contact with the sample which remains in standard biological conditions for microscopic observations.
Our unique patented temperature control technology enables to achieve real-time imaging with a temperature change from any temperature in the 2°C/60°C range in less than 10 seconds (the picture below shows a basic TempoCell™ platform on a microscope stage)
The biological sample chamber, the control software and the fluidic robustness of the system towards leakages, were optimized in order to respect the standard protocols used in high resolution microscopy. Thus, the user reaches easily a new level of thermal control performance, without any change of the biological protocols he is familiar and comfortable with.  The TempoCell™ chip can be used with inverted and upright microscopes, so there is no need to buy a new one.
Please ask our microfluidic specialists for advice on how to use our instruments, they will gladly counsel you on the best equipment set for your application
The TempoCell™ platform has been tested at UPENN University (USA) and at Institut Curie (FR) in collaboration with CNRS and ENS Paris .